Remote control for MV-RCT311TT1G
Reference:
MV-RCT311TT1G
Other names: MVRCT311TT1G
Shipping to United States: R$ 78.65 plus VAT (Standard shipping (no tracking), 2 - 3 weeks)
Description
remote control MV-RCT311TT1G used for televisions for the brand Thomson.
Brand
Brand:
Thomson


It uses 2 batteries of the type AAA
1.5V alcaline batteries AAA LR03, used in a great majority of remote controls.
The remote control is packaged along with batteries (if ordered) in a bubble envelope for more protection. Shipping is done quickly and safely, ensuring, as far as possible, the delivery deadline. The invoice will be sent by email.
Replacement remote controls that replace in all its functions the remote THOMSON MV-RCT311TT1G: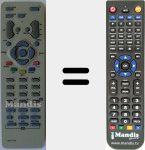 Replacement for MV-RCT311TT1G
R$ 166.75 (VAT included)