The original remote control is not available.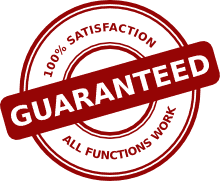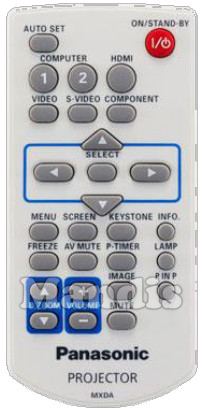 Click to enlarge
Replacement remote control for MXDA
Shipping to United States: 12.50 € (Standard shipping (no tracking), 2 - 3 weeks)
When purchasing the remote, a document will be sent detailing the relationship between the buttons of the original control and those of the replacement remote.

How do I know that the remote control performs all the functions of the original one?
Description
replacement remote control MXDA for Panasonic.
Brand
Brand:
Panasonic

Some of the models that use this remote are
Documents
Remote control instructions
This remote control performs all the functions of the original remote control:
Auto Set, On/Stand-by, Computer 1, Computer 2, HDMI, Video, S.Video, Component, Up, Down, Left, Select, Right, Menu, Screen, Keystone, Info, Freeze, Av.Mute, P.Timer, Lamp, D.Zoom Up, D.Zoom Down, Volume+, Volume-, Image, Mute, P IN P

It uses 2 batteries of the type AAA
1.5V alcaline batteries AAA LR03, used in a great majority of remote controls.
The remote control is packaged along with batteries (if ordered) in a bubble envelope for more protection. Shipping is done quickly and safely, ensuring, as far as possible, the delivery deadline. The invoice will be sent by email.